A HISTORY OF THE FAMILY OF WILLIAM FREDERICK & KEZIAH CATHERINE SPELL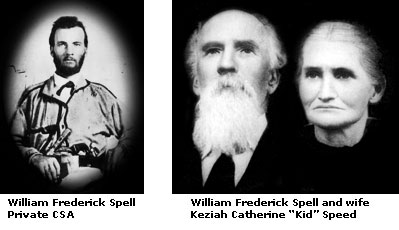 As recorded by Nelda Spell Mitchell, Great - Granddaughter
This is the story of William Frederick Spell and his wife Keziah Catherine Spell, their ancestors and descendants. It is not the entire story. Gaps will be evident to some readers, and there will be some parts that people will disagree with because they have always heard it told differently. Dates, names, places and events came from tax records, census records, church records, land deeds, wills, cemetery markers, family Bibles, Civil War records, and from living family members.
This history, written by their great-grand-daughter, Nelda Spell Mitchell, is an attempt to compile a verified history of the family of "Bill" and "Kid" Spell. With names as long as William Frederick and Keziah Catherine, it is a writer's blessing that their families gave them the nicknames of "Bill" and "Kid". The persons writing up legal papers for them, shortened it even more and referred to them in many instances as "W. F." and "K.C."
In the last part of this book, a genealogy lists William Frederick Spell and Keziah Catherine Speed Spell's ancestors for as far back as has been found to date, and lists their eleven children and their descendants to date. Also, there is a diagram of the Speed-Spell farm, a floor plan of the main house, and a map of the land.
Spell-Speed Family History